At this point I imagine you, dear reader, will be reading a lot of news about the state of politics, and as a young hopeful designer, probably quite shocked at the outcome of the US presidential election. We are once again a little fearful of the times we live in and the years ahead. You likely also feel a little powerless as an individual to change the world. I wish to offer an alternative thought, perhaps reignite that declaration you all likely have on your resumé.
We have seen far too much evidence of design and technology influencing policy and very little the other way around. Take any example in recent memory of services given the dutiful title of "disruptive technology". Uber, Airbnb, the iPod, Tesla's electric vehicles, Tinder, the internet, the iPhone - the list is a lot bigger than this. Now consider the speed in which these products changed the way we do things. Finally, think of how many of these a US government official designed, built demand for and made a reality. Didn't think so. Perhaps the most powerful tool we have in democracy (while we still have the ability to do it!) is disruptive design - and this my dear reader, is your speciality.
Consider one of the biggest problems our planet faces today, perhaps as a result of a century of rather careless design, Global Warming. Now, whether you believe in it or not, whether we created it or not is irrelevant, as I guarantee you will live long enough to suffer its effects. Let us consider the two directions we could go towards drastically changing the way people consume energy, meat, manufacture products and drive vehicles - the leading causes of carbon emissions. How would solving this problem look (as a best case scenario) from the perspective of a government and a designer or powerless individual like yourself?
‍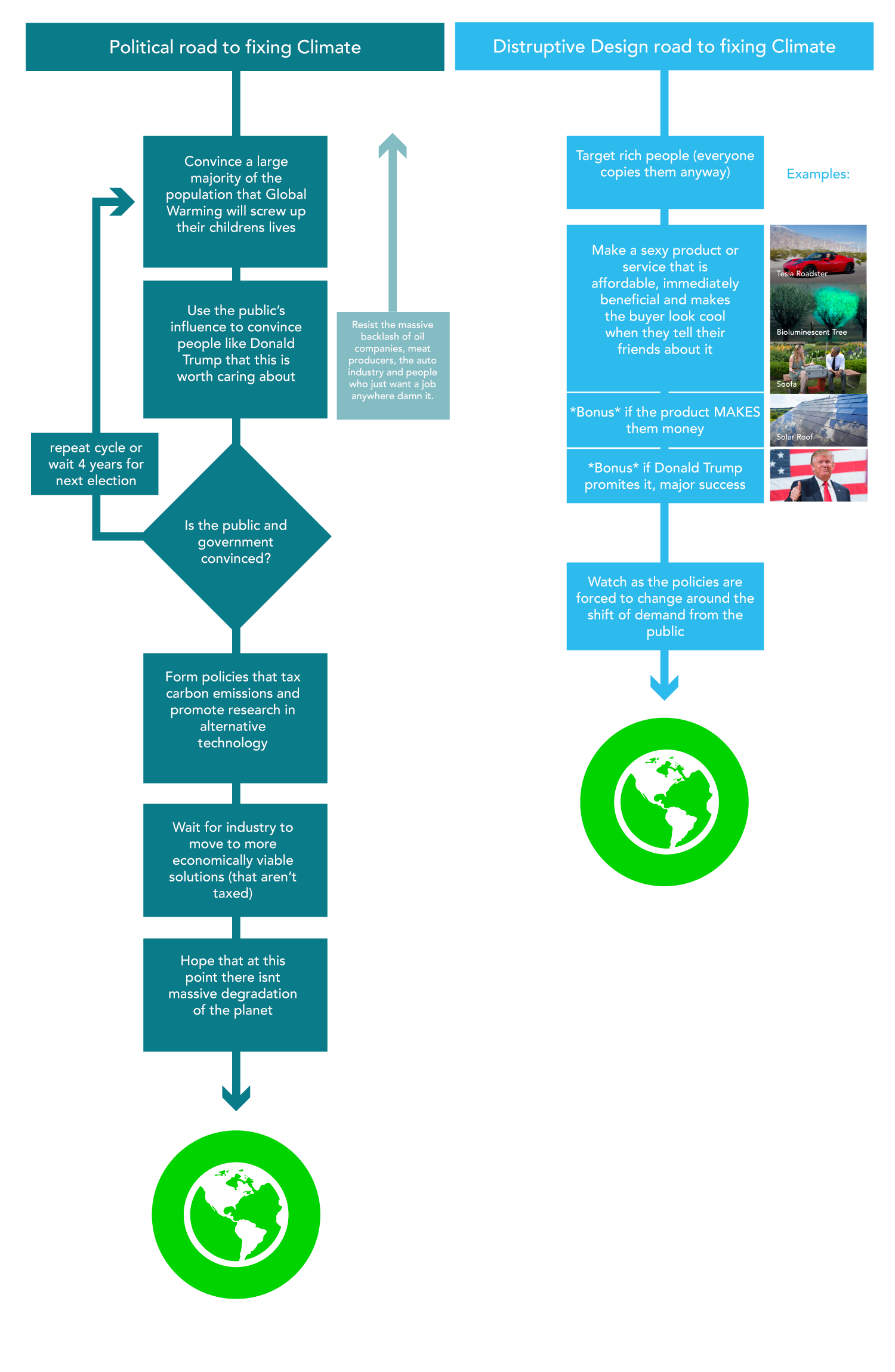 In addition to this, the world despite any election cycle is pretty much on your side. Take the auto industry. On paper, the reasons we are blown away with uber and self driving cars is firstly the fact that we can be that much more lazy, however in addition - we can feel better about our laziness at the same time. These transport directions promote ride-sharing and the companies building them share our vision for change and they will continue to do so as customers expect them to. They also don't need to make any new policies to make it happen - just generate demand. It is a good illustration of why sustainability is such an important source of disruptive innovation. The imperatives that it addresses are not going to go away. When the direction of travel is so clear, the sensible thing is to design better methods, not build up regulations, sue uber or 'streamline permits to drill on federal land'. None of this matters when cleaner energy and sustainable solutions are in such high demand. If anything, our new comedian of a US president is going to propel the demand for these products and services all by himself.
Ok so theres demand, but where do we start thinking? What's the brief? At the MIT Media Lab in Boston I would often defer to the MIT Solve approach to the worlds scariest wicked problems. Solve splits the problems into four major pillars; Learn, Cure, Fuel and Make. Whether you are an engineer, scientist, designer, artist or business oriented individual you can have a good idea. The lovely thing about the wicked problems like these is that the demand is there, oh and it's worldwide.
‍
‍
Hopefully after reading this you feel a little more powerful. While it may not be apparent to you, the democratic American government is swayed by supply and demand, just like everyone else. Democracy was built this way. If you can create something that people demand while holding on to the values you claim the half of the world is forgetting (environment, social equality, international unity - take your pick), what you create WILL change the planet and will do it a hell of a lot quicker than voting in a new president.
‍
‍
Luke Vink hails originally from New Zealand, grew up in Singapore, studied in the Netherlands and Boston, worked in China and now lives in Ireland. He believes that making things that matter requires the ability to balance a deep understanding of technology, the arts and most importantly, the good intentions of the very people that will use them. Most recently, he graduated from the MIT Media Lab with a master's degree from the Tangible Media Group. In this, he focused on physical, tangible computer interfaces to leverage the senses most interfaces of today neglect, you can take a look at some of his work here.
‍
Back to articles? Maybe you'd also like to take a look at some of our awesome design jobs or join the design community? You can always say hi with any suggestions or feedback, thank you for visiting! 🤘